Hoof Care With Aaron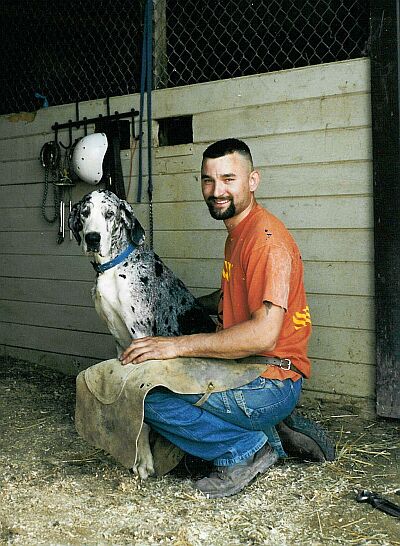 Aaron and Tiny
Aaron is a graduate of the Oklahoma State Horseshoeing School in Ardmore, Oklahoma. Now he is the farrier of choice for many Northeastern Ohio farms. He does hot, cold and corrective shoeing. If you would like to contact Aaron for your farrier needs, call him at 419-853-4605.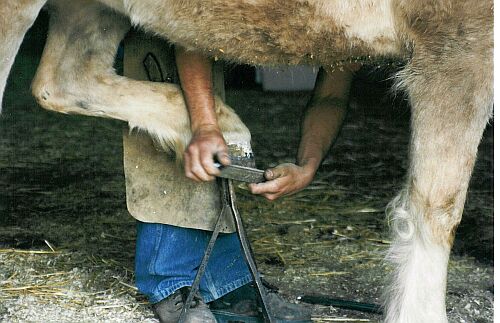 Hoof care is very important when you own a horse. If a horse's hooves are damaged, you won't be able to ride. The farrier or blacksmith is important for the health of your horse. He knows about hooves, hoof care, hoof diseases and other general hoof health questions so that your horse stays in tip-top shape.

We schedule visits from Aaron, our farrier, about every eight weeks. When he comes to visit Pony Tales Farm, he always brings his Great Dane with him. Guess what her name is? It's Tiny! Tiny is calm and gentle around the ponies, and often naps while Aaron does his work.

First, we put the pony being cared for in the cross-ties. Aaron puts on his apron and brings out his tools - hoof pick, hoof stand, hoof nipper and rasps. He cleans out the hoof first and checks it over for injuries or cracks, then uses the rasp to file the pony's hoof, which is like a giant fingernail. Hobo and the ponies all stand very still for Aaron. They know he is their friend!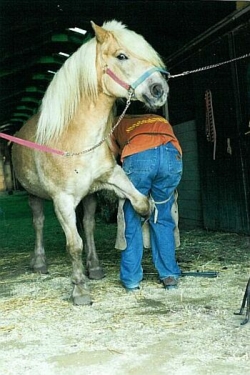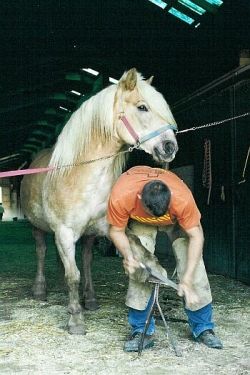 Aaron uses his nippers to trim the pony's hooves so that they are nice and even and not uncomfortably long. A pony that has too-long hooves will soon not be able to walk!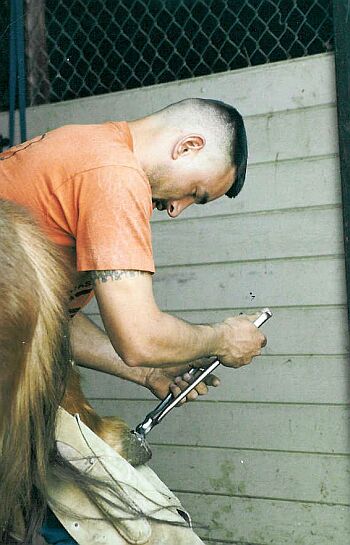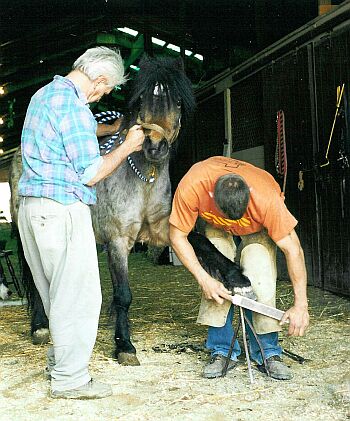 Jack gets the Royal Treatment!


Each pony gets checked over, cleaned and trimmed. On his last visit to Pony Tales Farm, Aaron let Charlie help use the rasp and hoof nippers. Maybe Charlie will want to be a farrier when he grows up.