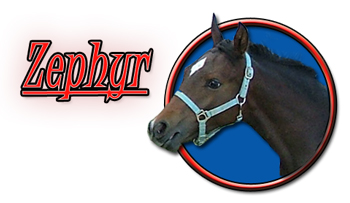 Zellie's colt, Zephyr, came into this world on April 19th, 2004 at 4am. Both Zellie and her foal were healthy and happy!

Zephyr is mostly dark brown but his coat has many colors in it. He has a white star on his forehead and a little white snip on his nose. He seems very strong - he stood and walked almost right away!

He grew so fast and became a tall horse right before our eyes! Now Zephyr is starting to get spots (after all, his mom is an appaloosa). White and black ones all over! We will see what his coat looks like after all the spots come in!

Images and Content © Pony Tales Farm.
All Rights Reserved.
If you'd like to use any of the pictures on the site, please click here to e-mail for permission first!