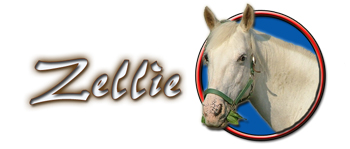 Zellie is an appaloosa mare. She came to our farm in 2003. On April 19th, 2004 she gave birth to a healthy bay colt! We love Zellie's shiny white coat and her gentle attitude. Where are Zellie's spots? Well, she may not have many spots but she is a true appaloosa. You can tell by her skin color, eyes and lips.

Zellie's Favorite Link:

Images and Content © Pony Tales Farm.
All Rights Reserved.
If you'd like to use any of the pictures on the site, please click here to e-mail for permission first!