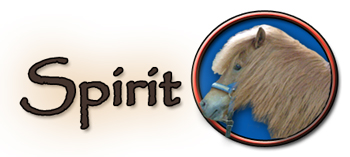 If we had a pony that was like Spirit the movie mustang, P.W. Spirit would be it! He has never been trained to ride, what we in the horse world call "broken". We have much work to do with him. He is a very sweet pony that we rescued from a horse auction.

His breed remains a mystery to us, but he looks like a Portuguese/Spanish type, and he is chestnut in both mane and tail and coat color.

Spirit is very kind and has no bad habits, which will make him a fine riding pony. We will be working with Spirit as much as possible all summer.

Images and Content © Pony Tales Farm.
All Rights Reserved.
If you'd like to use any of the pictures on the site, please click here to e-mail for permission first!